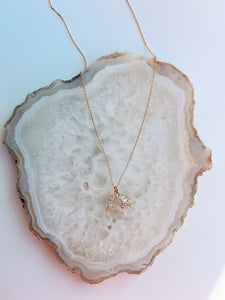 Wells Cooperative
Thatcher Necklace
Made with CZ stones and gold fill.
Made in collaboration with Jenna Kleiss and named after her son Thatcher.
Thatcher is our much anticipated rainbow baby, after we lost our second child during pregnancy in March of 2018. Our pregnancy was smooth and exciting! Labor and birth were likewise uncomplicated. At 36 hours old, after failing the CCHD newborn screening, our world changed forever. The following hours and days were a whirlwind in which the anatomy of his heart was carefully learned about- a borderline left ventricle, ventricular septal defect, bicuspid aortic valve, and diffuse hypoplasia of the aortic arch with coarctation. This would result in open heart surgery at 7 days old to reconstruct his aortic arch and repair the VSD.
We entered the world of heart parents with little warning, little knowledge, and little certainty for Thatcher's future and our own. But one thing that has been clear from the very beginning is God's faithfulness and hand on every piece of our story. Just as He placed a rainbow in the sky after sending the flood, so He placed Thatcher in my womb to be our rainbow. He carefully formed not only Thatcher but also each and every member of his unexpectedly huge medical team and each and every person who would pray for his health and heart.
How beautiful of a reminder too is Thatcher's aortic arch of that similarly shaped rainbow once placed in the sky. We are thankful for Thatcher's outcome from this all as he is a thriving three year old with little to visibly set him apart from others, but we know no matter what the outcome may have been, God was in control and steadfast to His promise to be with us always- through the storms and when the sun shines through again 🌈
---
More from this collection