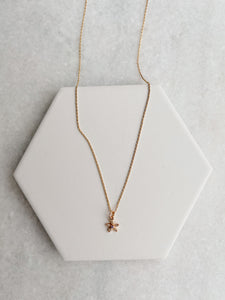 Wells Cooperative
Collette Necklace
Gold plated mounting with cz stones.
Collette was born following a snowstorm when many were experiencing darkness. She graduated from the NICU on World Down Syndrome Day after a month's stay, and her brother and sister just beamed from ear to ear after finally being able to meet her.
Collette's favorite thing to do is smile. No matter how hard of a day it has been, her smile lights the room and everyone, especially her biggest fans (her siblings) notice. It's contagious. Collette lights the way for her own path with her personality and stubbornness and completing milestones in her own time. She walks around the house bossing the dogs around, grabs her own applesauce when she wants a snack and she effectively communicates using her AAC device (she even told Minnie Mouse at Disney World "I love you!").
Like a flower in a snowstorm, Collette blossomed and made our lives more beautiful, not only because we have her but because we know what it is like to be a part of The Lucky Few.
---
More from this collection